From the Black Forest are hand-carved, hand-painted cuckoo clocks. Mini clocks are available for those who don't have the room or the desire for a full-sized clock. All created with traditional German pride and quality -- each supplied with a certificate of authenticity and guarantee, these clocks make a lovely addition to any home.
Anniversary Clocks
Black Forest Cuckoo & Mini Clocks
Pewter Clocks
These clocks are hand crafted and no two clocks are the same. They may vary slightly from the photographs but the basic style remains the same.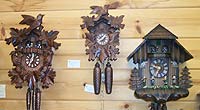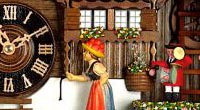 Click on above image to see the above clock.